The spotlight on "ultra-processed foods"
The term "ultra-processed foods" – or UPF – has long been a contentious descriptor to the food industry but is known to very few consumers. But that will change over the next five or so years, asserts Julian Mellentin, MD of brilliant UK research/think-tank New Nutrition Business.
One of the biggest drivers of that change, he adds, will be growing media attention to published science.
Credit for creating the term ultra-processed foods is usually given to the University of Sao Paulo, Brazil, where researchers created a food classification system called NOVA, designed to help people "group foods according to the extent and purpose of the processing they undergo".
The NOVA definitions of "processed" and "ultra-processed" are the subject of vigorous debate. But what's clear is that the concept of UPF is catching on and being used more and more by food researchers – who are increasingly examining the connection between disease and diets high in UPF.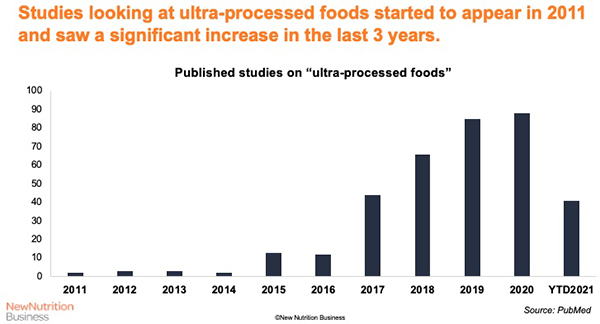 As the chart compiled from the PubMed database shows, the amount of published research on UPF is on the up. And when something shows up more in research, it shows up more in the media.
The world is full of journalists who have made university press releases their go-to resource for new stories. Whether the research is good quality or not, the journalists mostly don't know and rarely say, but they do know that their screen-scrolling readers have an insatiable appetite for news about food and health.
University researchers also love to appear on TV and share their opinions, making them an easy and credible basis for programme makers.
In the UK, for example, the BBC broadcast a programme called What Are We Feeding Our Kids? which made a strong case that UPFs are addictive. And there was a 1000% spike in social media interest in "ultra processed foods" following the programme, in which presenter Dr Chris van Tulleken (who has 83,000 Twitter followers and 11,000 Instagram followers) subjected himself to an n=1 experiment of eating a high-UPF diet for a month with predictable results: "I've aged 10 years in four weeks," he told viewers.
"Whether or not you agree on the exact definition of UPF, all this is starting the process of building mainstream awareness that 'UPFs are bad' – and food producers will find themselves having to pay this subject more attention in future," says Mellentin.
To read the original article, click here