Kellogg's continues to innovate, bringing consumers on-trend products
For the past century, Kellogg's has grown from creating the first-ever breakfast cereal and being known as a Corn Flakes company, to shaping an industry and offering a range of innovative food products. Kellogg's continues this spirit of innovation with two new local launches, designed to tap into the snacking craze.
It's no surprise that many consumers have made changes to their food consumption in the last 12 months – including what they eat and when. Many people have increased their snacking occasions throughout the day.
Says Avik Sarkar, head of marketing at Kellogg's SA: "Following the tremendous success of our current Granola range, we have launched launched two delectable new flavours. Kellogg's Nutty Delight & Tropical Burst Granolas are the perfect way for consumers to indulge with inclusions of almonds and cashew nuts, and the latter with pineapple, papaya, banana chips, raisins and coconut.
"This is in line with Granola consumers demanding variety and a multi-sensorial food experience through wholesome, tasty, and premium ingredients. The new Granola range will be highlighted in a digital campaign emphasising the indulgent moments t enjoy Kellogg's Granola.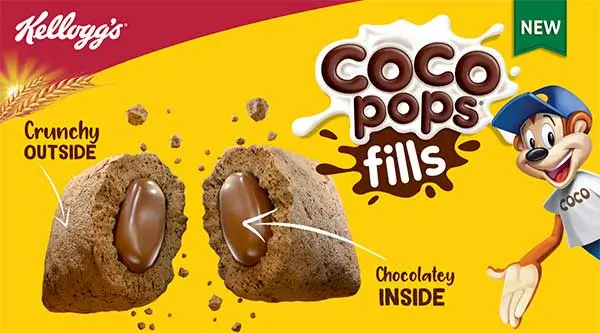 "In addition, the Coco Pops range has been extended to include Coco Pops Fills – a more crunchy and chocolaty addition. This exciting innovation offers South African youth (and those who are young-at-heart) a breakfast or snacking offering that is great on its own or with milk.
"Coco Pops Fills is unique in that it is crunchy on the outside, with chocolate filling on the inside. We will be launching this new product with an exciting digital and influencer campaign that will invite consumers to "Unleash What's Within" with Kellogg's NEW Coco Pops Fills.
"We are thrilled to launch these new products into the South African market. We know that breakfast isn't the only time people eat cereal, so we want to strengthen our breakfast and snacking portfolio with a range that goes beyond breakfast. We hope to delight our consumers by offering them innovative products and experiences."
Read the original article here
Images courtesy of  Kellogg's SA